I am once again faced with a dilemma, the destination of our next summer holidays! Sea or mountain, camping or hotel, I even thought about backpacking and trekking. Whatever happens, you have to make a choice, and choosing … is renouncing. And I want everything: discover new landscapes, meet people, and be alone in the world, without knowing where or when I am going to sleep, I want a trip simply … different! I want to come back to the office with a story like an Indiana Jones of modern times; ok, but the problem is that I only have Harrison Ford's old hat (completely worn out) and a limited budget in search of the Grail.
Going outside of the beaten tracks is not so easy. I've looked, turned, gone round and round, listened, googled and I FOUND! It is decided, this year … I will rent a VAN! This new holiday style seduces me a lot. Well "new", the idea is as old as the same concept of holidays and I immediately imagine Simone (the other half!) and me, in a vintage and authentic setting. A trip without any barriers, it's so me … Ok so the Van, but how do I do it?
After 2 clicks, 11 Instagram's and 3 hashtags, I finally come upon VanBreak, a rising start-up made in Andalusia, Málaga. PERFECT I need sunlight! 300 days of sun a year, the sea, the ocean, the mountains, nature parks, simply some fun. It is MY winning solution, no other option is yet good enough for me, it will be a van, Málaga and me, well and us.
Very proud of myself, in a couple of clicks, I reserved my van, rented 2 bikes, a stand-up paddle board and asked experts of the region for some advice. My dream realised, just a mouse click away. I feel a little bit avant-gardist even though these vans have existed for 70 years. So, I finalised the reservation of my campervan Volkswagen California completely new, the combi 2.0 version, I opted for the yellow one, of course! I can already feel the salty water on my lips the wind of Tarifa in my hair, with an air of Jack Johnson in the background … that's it, now it smells like the holidays.
I contacted VanBreak for some advice, good plans, an adapted and tailor-made itinerary and that's all there is to it. A young and attentive team ready to help us realize our dreams! After a 13-day road trip, 152 Facebook likes of my California in front of the ocean admiring dolphins and wales in full ballet, I finally went back to Paris. I took the underground a Monday morning, the one from 7:45 am. Arrival in St. Lazare, the announcement is given: 17 minutes late on my train to La Défense, typical. I pull out my iPhone, consulted vanbreak.com "Is there anything available for September left?" I call Simone, tell our friends, we don't need 1 but 2 vans and this time … direction to the Algarve. Let's go!
The essential details;
A trip in a campervan offers plenty of advantages:
• A unique comfort; the quality of the inside layout is impressive, especially for sleeping for example 2 real big beds (4 to 5 persons).
• An unrivaled maneuverability. Every driver more than 23 years old and with 2 years of driving licence can drive this vehicle very easily and isn't subjected to the restrictions of the motor homes.
• A size adapted to all grounds. Can be parked everywhere, in the city (covered car park) or out in the country. Its size gives it an incredible advantage and opens all trip options.
• Legacy of the famous combi Volkswagen, it has both a vintage and trendy image. Two types of campervans can be rented: the California Beach and the California Ocean. They have identical size and dimensions, but they differ somewhat on the inside layout and the storage capacity.
• The California OCEAN is more adapted for long-duration road trips, both for summer or winter.
• The California BEACH has a bigger capacity of storage available to load sports equiptment for example (kitesurf, climbing, paragliding…) or for a family with 2 or more children.
---
About VanBreak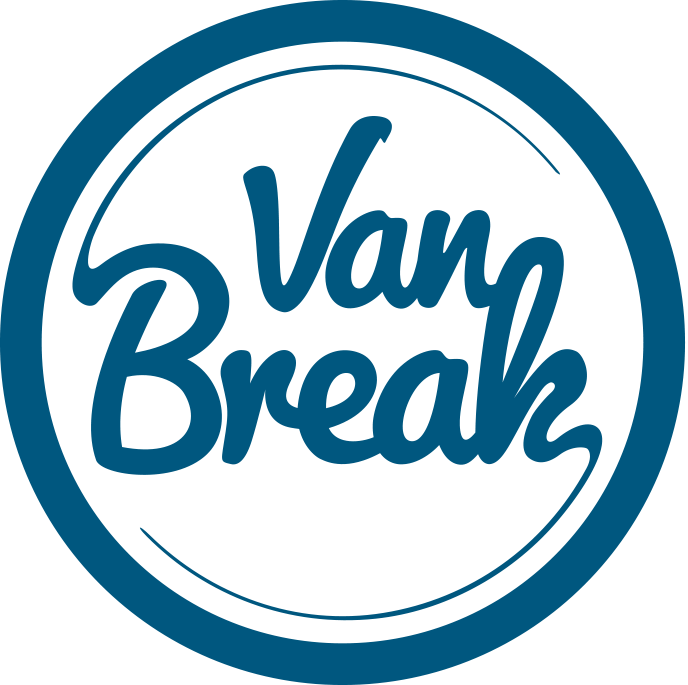 VanBreak is a start-up born at the beginning of summer 2016 from 2 young minds, Aurélien and Olivier. They show a necessity of traveling differently, out of the common roads. Fans of kitesurfing, curious and keen on innovation, VanBreak proposes a simple idea: offering the possibility to families, couples and groups of friends, to rent camper vans completely equipped, starting from Málaga to discover Europe. They are addressed to people who want to live a new experience and allow the traveller to feel free to choose "where" and "when".
As a TLR member you'll get 10% off you reservation with VanBreak and they'll chip in a free SUP for maximum fun during your trip.